Podcast: Play in new window | Download (Duration: 50:42 — 46.4MB)
Subscribe: Apple Podcasts | Email | RSS | More
In podcast episode 69, we're joined by William J. Kiesel, the publisher and editor of Ouroboros Press. "His long years in the antiquarian and esoteric book trade gave him access to rare books and manuscripts not generally available to the public. William has cultivated a lifelong care of books and has involved himself in every aspect of bookmaking, from bookbinding and typography to handset letterpress." William has also organized the Esoteric Book Conference.
As we begin the interview, William describes how his interest in books and publishing developed when he began collecting esoteric books at an early age and was inspired by a number of well-known esoteric authors and publishers. He highlights the tremendous amount of research and background work that goes into publishing antiquarian esoteric texts.
William describes how learning about aspects of publishing, such as bookbinding, paper selection, typesetting, and familiarity with various translations was crucial to his desire to publish new imprints of ancient esoteric books. We discuss some of the remarkable books that Ouroboros Press has released and some of his upcoming projects. We also talk about the Renaissance as a fruitful time for all knowledge, but especially in terms of esoteric books.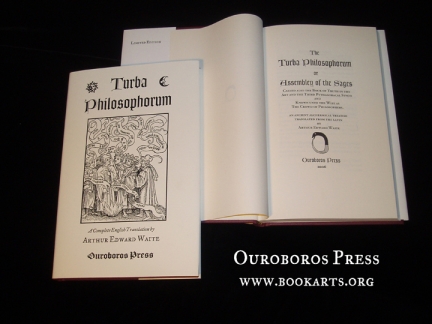 William shares his interest in Alchemical symbolism, Hermetics, artwork, and the Western Esoteric Tradition. We touch on the current state and future of books, the tradition of book arts, and the concept of a book as a talisman. We finish off our conversation by discussing the Esoteric Book Conference, scheduled for September 19th and 20th, 2009 in Seattle, Washington, USA. William has organized this wonderful event to bring together publishers and readers of esoteric books.
Picatrix, Vol. 2: The Goal of the Wise by Ghayat al-Hakim
Heptameron and Arbatel of Magick
Turba Philosophorum tr. by A. E. Waite
Tabula Smaragdina Hermetis – The Emerald Tablet of Hermes Trismegistus
intro music by HipGnosis and Darkfold
outro music by Agrippa93 – "LVX"