Podcast: Play in new window | Download (88.2MB)
Subscribe: Apple Podcasts | Email | RSS | More
Artist, designer, typographer, printer, and publisher Joseph Uccello is our guest in podcast episode 133 to discuss his work, especially his most recent book, Occlith Labyrinthus Archidoxae, Vol. Zero: Omniform, published by Three Hands Press.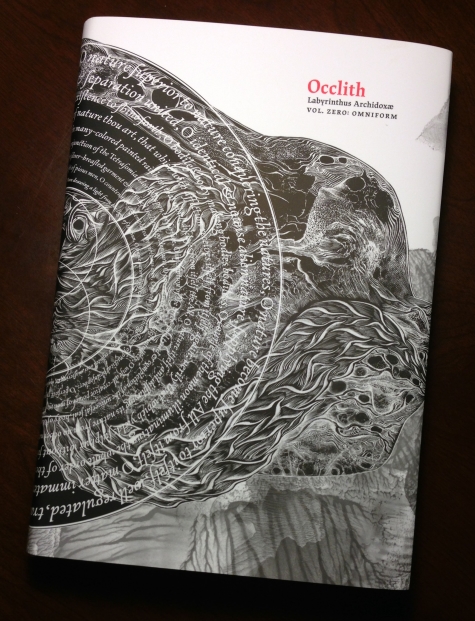 "Joseph is a wayfarer in the Codex Naturae. While living in China he discovered and embraced the traditional brush and ink stick. He currently runs the Viatorium Press. He practices the almost-forgotten art of typography, has developed special techniques in letterpress printing, and won Bookbuilders West award for best book design for the Lovecraft homage Pilgrimage to Azathoth. He designed, printed, and illustrated another Lovecraft-themed book entitled Al-Azif. Additionally, Uccello has worked with Ouroboros Press to design and set the type for the new edition of Theatrum Chemicum Britannicum. His first book for Three Hands Press is Occlith: Omniform 0."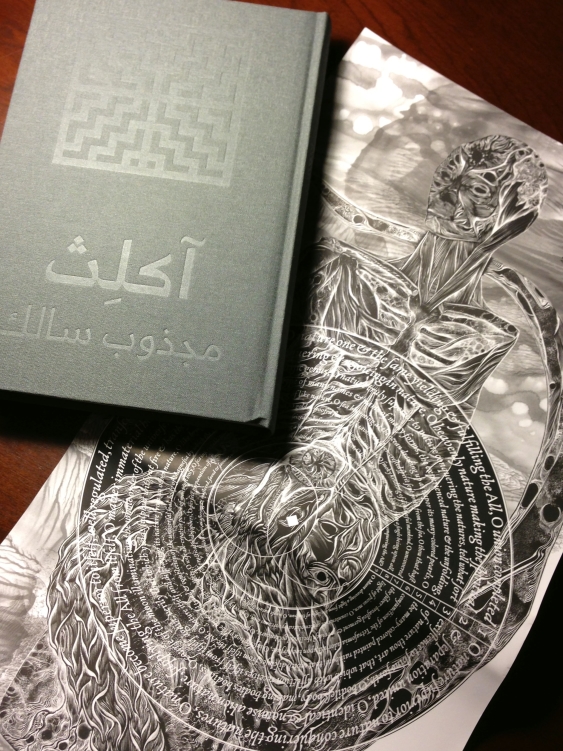 In the first half of the interview, Joseph talks about his art, as well as his interest in book design, typography, printing, and publishing. We spend considerable time discussing his work on the Ouroboros Press edition of Theatrum Chemicum Brittanicum.
"The book is a living being.
"It is the body which, upon opening, radiates knowledge like a microcosmic sun – met and enflamed by the volition of the human hand, eye, and mind. Imagine the countless occult interactions when one engages with the book; things readily apparent to the senses, amidst others traveling stealthily into the unconscious: the many subtle reactions that are fathomed and recorded only in our deepest of minds." – Joseph Uccello, Prolegomena to Occlith: Omniform 0, p. 8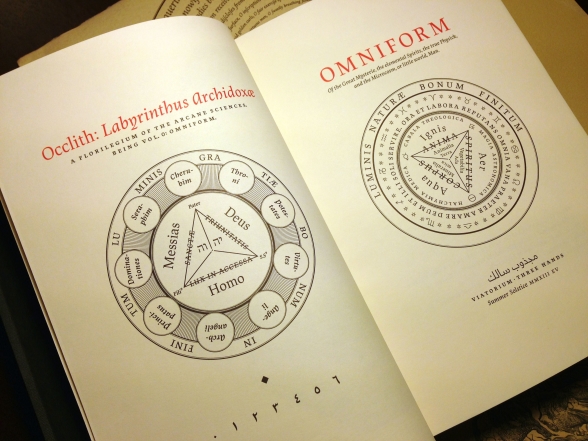 We spend the second half of the interview discussing Uccello's recently published Occlith: Omniform 0. I think this is one of the most unique and beautiful books that I've ever seen. The artwork, printing, and design are superb and the old Hermetic alchemical texts within have been literally resurrected. I highly recommend it. Joseph's artwork is extraordinary, as are his books, printing, typography, and design. I believe his craftsmanship, insight, and attention to detail are only part of what makes him successful. The other component is a Hermetic alchemical reaction initiated through his world travels, seclusion, reading Paracelsus, and devotion to his work. He is truly worthy of your attention.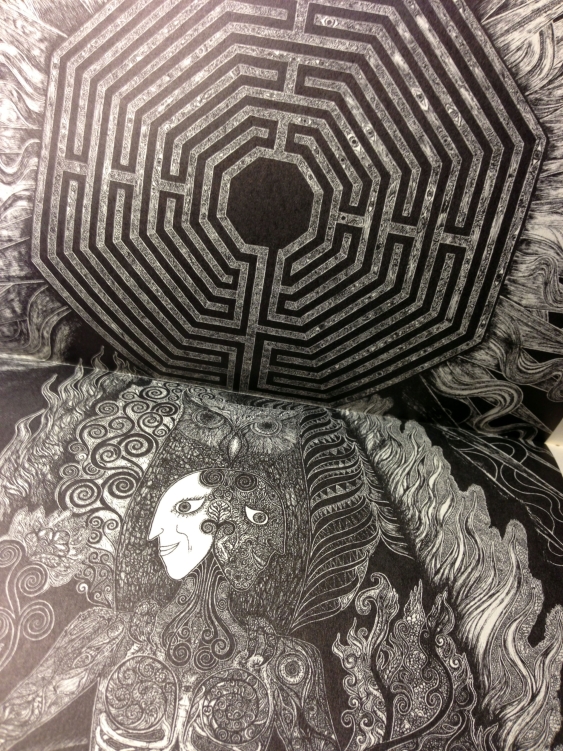 Joseph Uccello's artwork will be featured at the 2013 Seattle Esoteric Book Conference! If you're able to attend, I urge you to do so. It's a wonderful event and I wish I could go. Hopefully, next year …

Please join Joseph Uccello in the Occult of Personality Membership Section for a fascinating exposition on the alchemical master, Paracelsus!
"Occlith: Towards the Arcane Modern" by Joseph Uccello
"Occlith: Labyrinthus Archidoxa" by Joseph Uccello
"Paracelsus" Wikipedia entry
"Paracelsus: Alchemical Genius of the Middle Ages"
"Oswald Croll" Wikipedia entry
"Oswald Croll: Preface of Signatures"
"Theatrum Chemicum Brittanicum" – photos by Joseph Uccello
Patterns That Connect: Social Symbolism in Ancient & Tribal Art by Carl Schuster, Edmund Carpenter
intro music by HipGnosis and Paul Avgerinos
midtro music – "Purgatory Chasm" by Mountain Mirrors
outro music – "Be Creative" by Dave Preston