Podcast: Play in new window | Download (Duration: 1:10:58 — 65.0MB)
Subscribe: Apple Podcasts | Email | RSS | More
Welcome to Occult of Personality: esoteric podcast extraordinaire. I'm Greg Kaminsky and your co-host is Billy Hepper.
Now, in episode number 219, we're joined by author Brian George to discuss his recent book, Masks of Origin: Regression in the Service of Omnipotence. https://untimelybooks.com/book/masks-of-origin/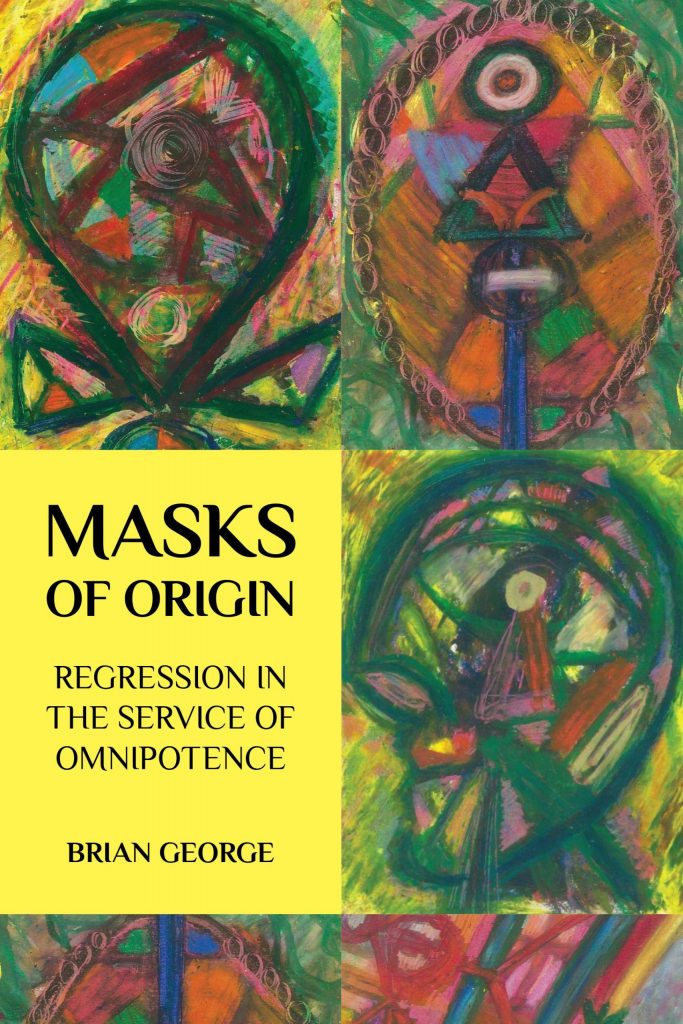 Brian and his work are not the sort typically featured on this podcast. But I think you will find that the intention and exploration of his writing goes towards the results of esoteric practice and the consideration of all of the huge questions that define the meaning of our existence. This conversation is not unlike Brian's writing in that our pace is easy, our course is not linear, and through it insights that are both wonderful and a bit surprising reveal themselves. If you appreciate humanity's struggle to know and find new ways of knowing, you'll enjoy this conversation. Give Brian some love and pick up his book if you enjoyed his interview.
Brian George's personal essays invite the reader on a journey beyond the normal categories of space, time, and narrative structure, towards a shore of multidimensional experience. Writes the author: "The book is not quite a collection of essays, or the fragments of an autobiography, or a record of inter-dimensional journeys, or a work of metaphysics, or a sociopolitical critique, or an attempt to formulate a contemporary mythology—although it has elements of all of these." In Masks of Origin, we meet the artist not only as a cosmic traveler and esoteric yogi, but also as a schoolboy, a son, a rebel, a lover, a teacher, a friend/enemy, and a family man—in short, as a person with adventurous goals but few pretenses. As we follow George in the probing of his origins, we may find that we have suddenly drawn much closer to our own.

You can find more of Brian's writing here: https://dark-mountain.net/author/brian-george/ and https://www.metapsychosis.com/creative-agents/brian-george/.
Occult of Personality podcast is made possible by you, the listeners, and by the subscribers to chamberofreflection.com, our membership website who aid us in the cause of informed, authentic, and accessible interviews about western esotericism. Thank you again! Because of your support, we're able to bring you recordings of this caliber and many more to come.
The intro music is "Awakening" by Paul Avgerinos (https://magnatune.com/artists/albums/avgerinos-gnosis?song=3) and the outro music is "Hidden" by Myles Cochran (https://magnatune.com/artists/albums/myles-marginal?song=4).
In the Chamber of Reflection and at our Patreon, Billy and I continue the interview with Brian George, touching upon ultimate meaning, time, life, and much more! Join us for that compelling conversation.
I'd like to remind you that although you're able to listen to this podcast at no charge, it costs time and money to create. We ask you to support our efforts and the creation of future podcasts by joining the membership section at https://chamberofreflection.com or subscribing via Patreon at https://www.patreon.com/occultofpersonality. As always, if you're already supporting the show or have done so in the past—my heartfelt thanks and I salute you!
Please remember, we are in the midst of our Meditations on the Tarot Study Circle that is open to all Chamber of Reflection paid members. Later in February, we're meeting to discuss the The Hanged Man and you should join us!
Greg Kaminsky Linktree – https://www.linktr.ee/brothergreg
Occult of Personality website – https://occultofpersonality.net
Chamber of Reflection (Occult of Personality membership section) – https://chamberofreflection.com
Patreon – https://www.patreon.com/occultofpersonality
Email – [email protected]
YouTube – https://www.youtube.com/channel/UCeKBc9SEZJbz0A9n3ytbSXg
Telegram – https://t.me/occultofpersonality
Twitter – https://www.twitter.com/occultofprsnlty
Instagram – https://www.instagram.com/occultofprsnlty/
Facebook – https://www.facebook.com/OccultofPersonality
Support My Work – https://paypal.me/occultofpersonality
Odysee – https://odysee.com/@OccultOfPersonality:a
Support My Work – Cashapp – https://cash.app/$BrotherGreg33